Regular price
Sale price
$3.50
Unit price
per
Sale
Sold out
These beautiful plates are simple, yet so delicate and elegant. The edges of the plates are slightly curled up for a subetly dramatic edge, lined with gold.
Dinner plate 10.5"
Salad plate 8"
View full details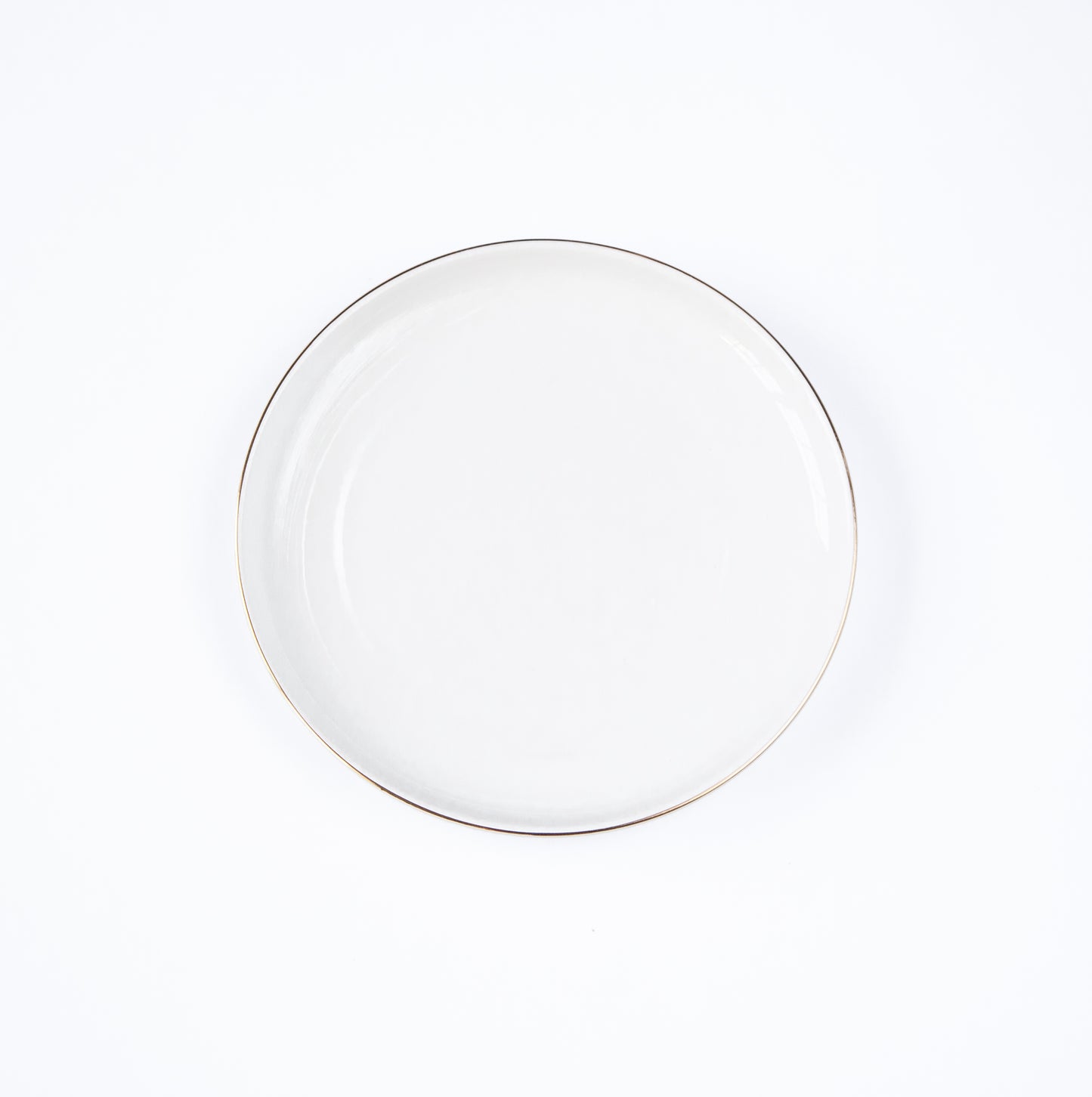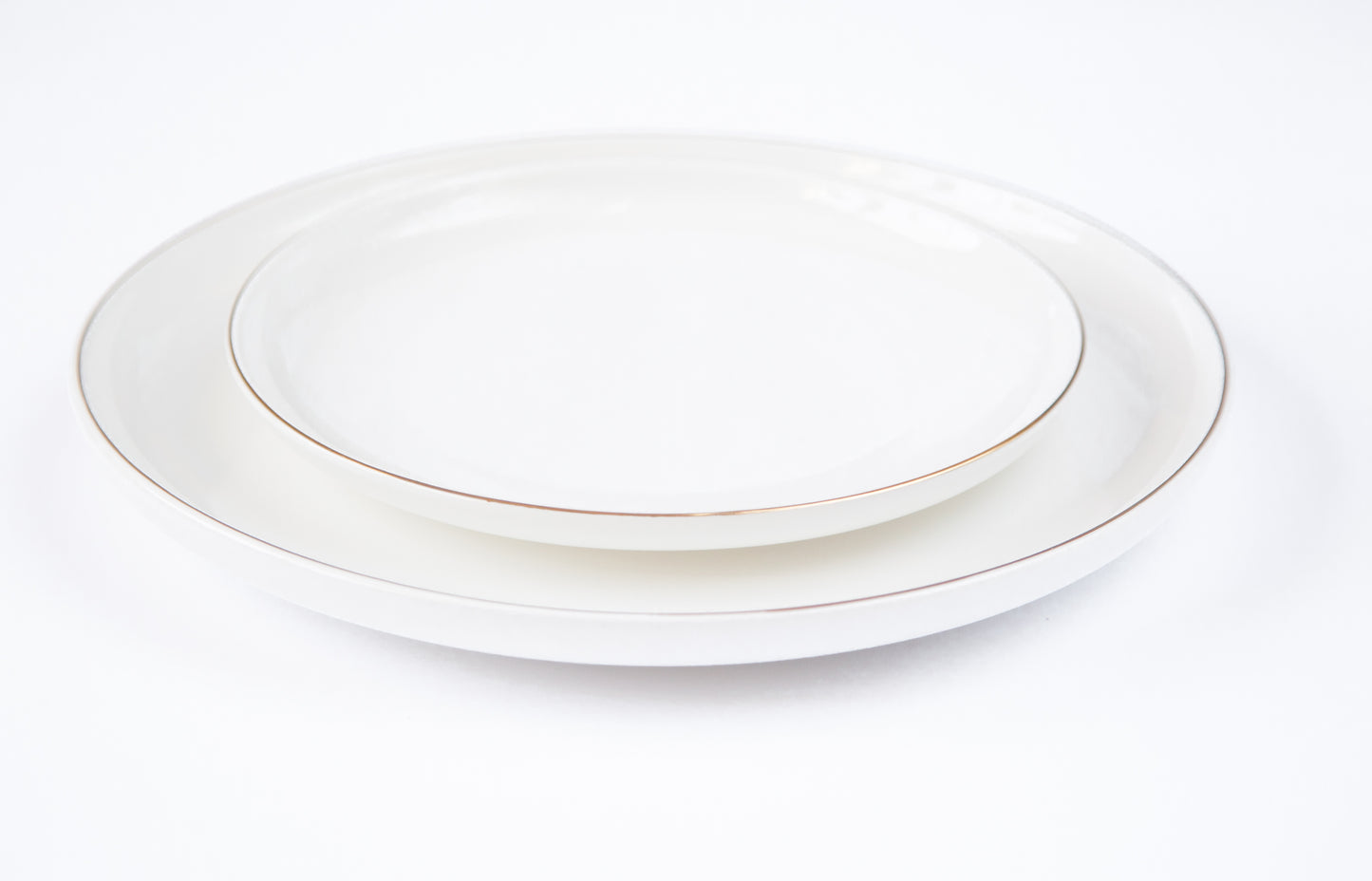 RENTALS
HOW DO I PLACE A RENTAL ORDER?

You will see  "add to quote" button next to product and also thru the Table Designer feature.  Add all items that you wish for to the quote, fill out the requested info and press the submit button. We will get back to you with a comprehensive quote in 24-48 hours. To secure your inventory, we require a 50% deposit and a signed rental agreement to confirm your order.
WHEN SHOULD I RESERVE THE ITEMS I NEED?

We work on a first come first serve basis. Due to high demand we recommend that you place your order as soon as possible to secure your wishlist. It is not confirmed until after a signed contract and a 50% deposit.
DO YOU HAVE A RENTAL ORDER MINIMUM?

Yes, there is a rental minimum that starts just at $300 depending on delivery city. Please refer to "delivery zones" for detailed outline of fee's by zones.
CAN I MAKE CHANGES TO MY ORDER?

We understand that there will likely be plenty of changes to design and guest count between the time of order and event date. Just email us atorders@ooyootco.comwith your order number in the subject line and the changes requested in the email body. The deadline for final adjustments is 7 days before the event day.
HOW LONG IS THE RENTAL PERIOD?

Our standard rental period is up to 3 days.
DO YOU RENT OUTSIDE OF FLORIDA?

Yes! We love to travel. Please refer to the "delivery zones" page for more information.
CAN I PICKUP MY ORDER AND/OR TRANSPORT TO THE VENUE BY MYSELF?

Yes, however please note that customer is responsible for carrying and loading the items into their vehicle and is responsible for any damage after that. Minimum rental amount for will call is $300
WHAT IS THE DELIVERY PROCESS?

We deliver your order on the date, time and location that you specify. We will also come back and pick everything up after the event when you specify. Between this time you are responsible to provide a secure storage location for the items rented.
DO I NEED TO WASH/CLEAN ANY OF THE RENTAL ITEMS AFTER THE EVENT?

In order to keep the integrity and quality of our rentals, we ask that you do not wash/clean anythings. Many of the items with gold and fine china needs to be cleaned according to the product care guide, and we are experts at that!
WHAT DO WE DO WITH THE ITEMS RENTED AFTER THE EVENT?

We ask that you remove and food from the plates and liquid from glasses. Pack the plates in their original crates with the provided foam sheets between each plate. Glasses need to be placed upside down back into the glass rack. Flatware needs to be placed into the plastic box provided. Please repack any other items like candle holders or cake stands back into its original box.
ARE YOU ABLE TO DO THE TAKEDOWN AND REPACK EVERYTHING?

Yes, we can do the not so fun part for you! The fee will depend on the the order size. Please reach out to us atorders@ooyootco.comif you would like to add on this service.
WHAT IF AN ITEM IS DAMAGED OR MISSING AFTER THE EVENT?

If an item arrived damaged when delivered- please let us know asap. Doing so you will avoid any damage/replacement fees.

If an items is missing or damaged, a replacement fee will be charged at retail value. 

A credit card authorization form needs to be filled out when confirming the order to give us permission to charge your card in the event of missing or damaged items.

Note: For all will call orders customer is responsible for any damages after picking up the products.
WHAT FORMS OF PAYMENT DO YOU ACCEPT?

We accept all major credit cards, checks, zelle wire transfers and cashapp. Credit card transactions are subject to a 3% convenience fee.
WHY DO YOU REQUIRE A CREDIT CARD AUTHORIZATION FORM WITH ALL RESERVATIONS?

We require to keep credit card authorization forms on file to insure that the customer can pay for any damages that may incur. Rest assured that in a situation like that we will contact you regarding the damage and will most definitley notify you before any charges are made.
DO YOU COLLABORATE WITH EVENT PLANNERS, MARKETING EVENTS AND PHOTOSHOOTS?

We love to be a part of collaborations. Please email us at partnership@ooyootco.comwith details so that we can determine if the project aligns with our style and vision.